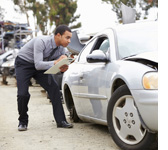 North Carolina Adjuster Licensing Education is the key to kick starting your career in Insurance Adjusting. The Agents Choice promotes student preparation and achievement in passing the Adjuster state examination the first time. Your Adjuster course includes a qualified instructor to answer all your questions as well as access to free practice tests.
Our course teaches everything Adjuster Licensing Candidates need to know in order to pass the state exam, including a special section pertinent to adjusters. This section makes up 20% of the state exam. You will not find it in regular Property and Casualty courses as they DON'T cover this information. The Agent's Choice course does.
The Adjuster course text is approximately 140 pages including index and glossary.
We are a North Carolina Department of Insurance Approved Insurance Adjuster Pre-licensing Education Provider.
The Agentís Choice Adjuster course covers all topics that are addressed on the North Carolina state Adjuster license exam as found in the NORTH CAROLINA INSURANCE LICENSING EXAMINATION CANDIDATE GUIDE CONTENT OUTLINE.
---
If your goal is to settle insurance claims, this is the course to take. This course covers subjects such as:
Terms and Concepts

Personal Insurance Coverage

Standard Fire Policy

Basic (DP-1), Broad (DP-2), and Special (DP-3) Dwelling Property Forms

Homeowners Policies

Other Personal Policies

National Flood Insurance Program

Watercraft/Yacht

Personal Umbrella Liability

Personal Auto Policy

Commercial Insurance Coverage

Loss Report

Loss/Damage Valuation

NC Statutes and Regulations
Insurance Adjusters
Settle
Insurance Claims
---
Read our
Sample Text
Take our
Sample Test

---
The course is divided into twelve online study modules with online testing after each module. The course is completed with two online final exams that cover all modules. These can be taken as many times as you wish.
During the course you will have access to an instructor who wrote the material and has 40 years experience as a licensed insurance professional. He is able to answer your questions by email.
This course does NOT cover topics NOT relative to the North Carolina Adjuster Exam.